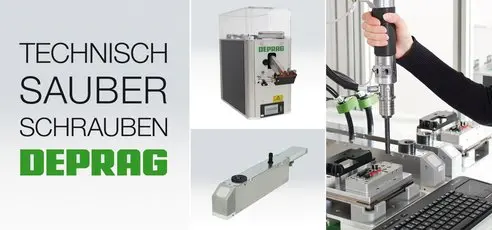 Dirt or dust particles can cause damage to some products or the system into which the sub-assembly will be integrated.
In these situations it is important to avoid abrasion, reduce abrasion or target its removal! These are the basic requirements for screwdriving assembly in clean rooms to ensure the quality of the components to be processed. The DEPRAG CleanFeed Concept provides an overall solution.
Advantage: Integrated design for technical cleanliness. Deprag's complete program is coordinated for all required individual components, from the feeder to the screwdriver, semi automatic or fully automatic – all from one source.
Function: The screws are stopped in switch position 1 and the residual dirt is removed from the feed parts via vacuum suction. The removed dirt particles are then collected in a filter with transparent inspection window and a replaceable filter element. In switch position 2 the cleaned connection element is fed into the screwdriving module (inline version) or prepared for pick up (Pick&Place version).
The components below can be used to obtain an optimal result:
DEPRAG HSF sword feeder – vibration free screw feeding – therefore no component friction and minimal abrasion
DEPRAG Particle killer – dirt particles from the feeder are targeted and removed in-line
DEPRAG Clean Pick-and Place unit – Screws are fed to to the pick point in the unit, which also has a vacuum to remove particles
DEPRAG SFM-V vacuum screwdriving module, which fits onto the screwdriver – residual dirt is removed by suction via an additional vacuum source when positioning the screwdriver.