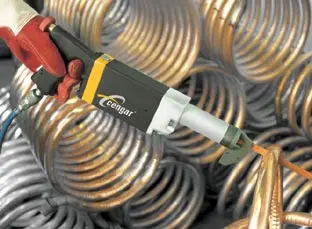 Whenever power tools are going to be used, the usual safety equipment is required such as goggles, gloves, safety shoes and ear protection the cutting of metal in hazardous areas or for long periods of time also requires additional safety considerations.
Risk of explosion:
When a tool is going to be used in a potentially explosive or hazardous area, it is not good enough to just use a "non sparking air tool". When a risk assessment is done on any tool going into a hazardous area the basic question to ask is what is the maximum surface temperature of the tool, the blade and the material to be cut? If explosive gases are present, what is the ignition temperature?
Most operations will not have the facilities to rigorously test a tool's maximum surface temperature. All of our air hacksaws are tested according to the European ATEX approvals. This means that the tools have been independantly tested and have a coded approval marked on the tool showing the temperature class tha the tool is suitable for and what environment it is tested for (eg explosive dust or gas, industrial or mining areas).
Vibration:
Depending on how the saws are used, exposure to vibration levels has to be considered. This is especially important when the saw will be used non-stop for more than half an hour. During shut down periods in the oil and gas industries, as well as in production environments it is not uncommon for air hacksaws to be in constant use for 8 hours or more.
Many tools have high vibration levels and according to European regulations cannot be used for more than an hour without a break. Exceeding these vibration exposures can lead to vibration related injuries that take years to develop and are among the leading compensation claims in the EU.
Most low cost tools do not even state vibration levels, so a risk assessment should be carried out on the tool to determine whether using it for prolonged periods poses a risk to the operator.
All of our tools have their vibration levels clearly declared in their manuals and catalogues. From these levels you can easily determine how long the tool can be used before the operator has to take a break. If you would like more information on the vibration levels of our tools, please do not hesitate to contact us.
Cheap Copies:
Cheap copies of our saws are on the Australian market. Besides being lower power, quality and life expectancy, they normally do not have ATEX approvals nor do they state their vibration levels.
All of our air hacksaws are ATEX approved and have very low vibration levels.